The Slider 4 Pack
Use with an Open Bridge without slipping.
Fits any size shaft. Just pull it down toward the joint when you don't want to use it.
Made from the highest quality Lycra material.
Washable and long wearing. It makes a house cue feel like a pro shaft.
Comes 4 to a pack in full colors.
THE SLIDER IS INCLUDED IN THE OFFENSE PACK
Related Products
The Pro English Trainer
$34.99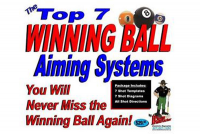 WINNING Ball Aiming System
$29.95